This Sheet Pan Chicken and Veggies is so easy to make and a true crowd pleaser! Artichokes, cauliflower and potatoes are nestled around herbed chicken and baked all together to create a wonderfully easy meal.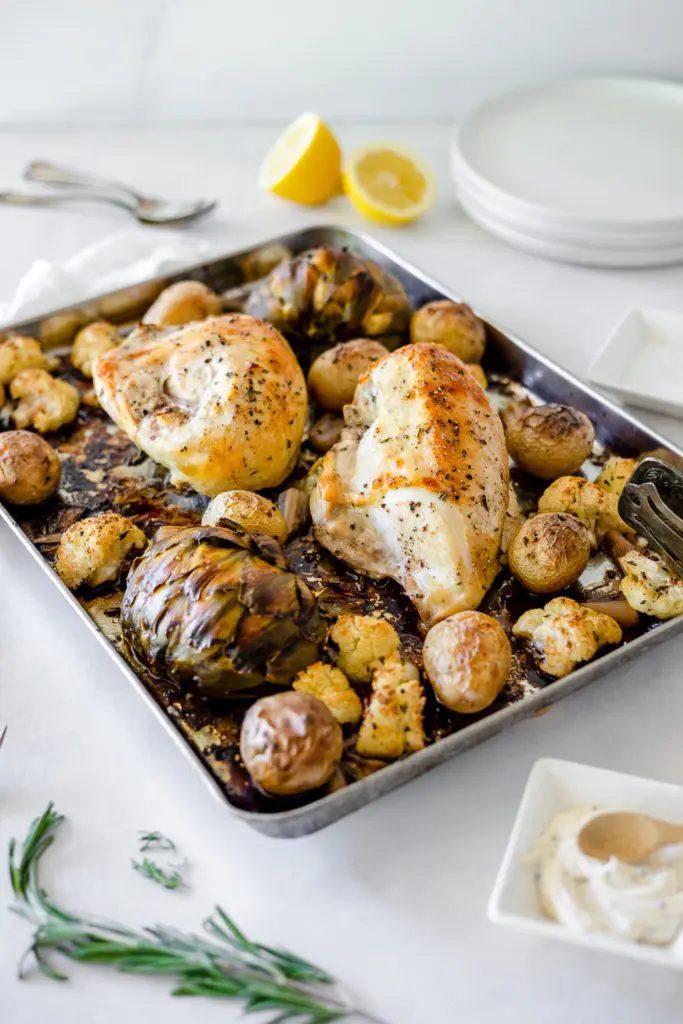 Do you struggle to get inspired by the same one sheet pan meals you've been making for years? Are you tired of sheet pan meals that make all the parts taste exactly the same?
Well…this sheet pan chicken and veggies dinner really is a winner! 🙂 I can't wait for you to try it! It's perfect for a date night dinner or simply scale up to feed a crowd. And something I've learned along my culinary journey is that roasted chicken really is something special.
This recipe is inspired by a wonderful recipe by James Beard Award nominated chef Justin Chapple.
Some of the links in this post are affiliate links.  Please view my privacy policy for more details.
Can you Cook Chicken and Veggies on the same pan?
Absolutely! To create an easy sheet pan meal you need to work with ingredients that can all be done at the same time. For this recipe to work best, it requires chicken on the bone.
Using bone-in, skin-on chicken pieces allows the chicken to be cooked at a high temperature, but still remain juicy. In Justin's original recipe he calls for a spatchcocked chicken – which tastes wonderful, but I don't prefer the process honestly.
When I found beautiful bone-in, skin-on chicken breasts on sale recently I knew that was the answer!
What veggies roast well with chicken?
The original recipe called for baby potatoes and marinated artichoke hearts. Both things I love, but I knew I wanted to change things up a bit. In his recipe, you must take the pan out halfway through and add the artichokes. Not bad, but I wanted to cut down on the steps and make this EASY! (I know, not always my style!)
I also wanted to up the veggie count here. Enter – cauliflower!
And take out the canned aspect. Knowing that whole fresh artichokes roast beautifully, I thought – why not!?!
What happened you may be wondering? Well magic! And that's why I'm here to share it with you!
The baby potatoes turn out perfectly soft, the cauliflower soaks up the lemon and the artichokes take on a nutty profile amplified by the herbs.
What herbs and spices go best with chicken?
Chicken is very versatile and goes well with many different spices and herbs. Some classics are paprika and garlic, basil and rosemary, ginger and lemongrass.
For this recipe I mostly stuck to the original herb and spice blend from Justin's recipe, but decided to add thyme. I love the way that rosemary and thyme compliment each other with the slight hint of smokey paprika. Then the lemon adds a brightness that really brings all of the flavors together.
What happens when you add lemon to chicken?
Great things! Lemon helps to tenderize the meat and brings a bright element to the overall flavor.
Simply drizzle the chicken with lemon juice and olive oil and season with salt, pepper and a bit of smoked paprika.
Then place the chicken on a sheet pan and nestle a few sprigs of rosemary and thyme under the natural dome the breast bones create.
Next, toss the potatoes, shallot and cauliflower with the same blend and arrange these around the chicken pieces.
How to Prepare Artichokes for Roasting
Next, take the artichokes, take off the beginning leaves and trim the thorns. Then cut them in half and remove the inner, fuzzy choke. Cover the cut side of the artichoke with lemon and stuff some of the rosemary and thyme sprigs in the opening where the choke was. Place the artichokes, cut side down, on the sheet pan and top with more lemon and olive oil.
How Long to Roast Chicken?
Now, just pop the whole thing into a 425 degree oven and roast for 45-55 mins or until the chicken skin is golden, the chicken reaches 165 degrees and vegetables are softened.
Voila! It's so easy you can even throw it in the oven and go for a walk while it finishes cooking.
How to Serve This Herbed Chicken and Veggies
You could make gravy or another sauce to serve with this, but I prefer a flavored aioli like my Roasted Garlic and Sage Aioli. It really enhances all of the flavors without taking over.
Since this is already a meal in itself, you can just add bread or a salad and be done!
Helpful Items to Make this Recipe
What to Pair with Roasted Chicken and Veggies
Due to a compound in artichokes that brings out the sweetness in wine, I would pair with more acidic wines with less residual sugars.
White Wines
Sauvignon Blanc, Pinot Grigio or even a Gruner Veltliner will pair nicely with the herbs, lemon and artichokes.
Red Wines
A Cabernet Sauvignon or Pinot Noir will enhance the roasted flavors in this dish.
Substitutions/Changes
Chicken Breast On the Bone – You can use bone-in chicken thighs or spatchcock a chicken if you prefer. I wouldn't recommend boneless chicken as it would dry out before the vegetables were done. Do note, that chicken thighs will cook faster than chicken breast.
Artichokes – You can use marinated artichokes for this recipe. To do this you just add them part way through rather than at the beginning.
Baby Potatoes – Feel free to cut up larger potatoes into smaller pieces, but do note that they will cook a bit different than whole baby potatoes. They may be more prone to soaking up more liquid and becoming softer.
Shallot – You can substitute sweet onions or leave these out.
Cauliflower – Feel free to leave this out if you don't like it or have it on hand. You could substitute another veggie like broccoli or squash, but that may affect cooking times.
Lemon – If you don't care for citrus flavors you can leave this out. You could add a bit of brightness from some balsamic vinegar possibly instead.
Herbs – Use what herbs you like. You could switch out or add parsley, sage or even dill.
Smoked Paprika – You can use regular paprika or leave this out, it's not the dominate flavor.
Olive Oil – Feel free to use what oil you prefer.
Easy Sheet Pan Chicken and Veggies with Lemon and Herbs
Artichokes, cauliflower and potatoes are nestled around herbed chicken and baked all together; making this a swoon-worthy (and dairy-free) dinner!
Print
Pin
Rate
Ingredients
2

Bone-In, Skin-On Chicken Breasts

8-10

Baby Potatoes

1

Small Head Cauliflower

chopped into florets

1

Large Artichoke

cut in half with choke removed

1

Large Lemon

cut in half

2

Shallots

cut into fourths

4

Tbsp

Olive Oil

divided

1/2 - 1

tsp

Smoked Paprika

divided

6-8

Sprigs Fresh Rosemary

divided

4-6

Sprigs Fresh Thyme

divided

Salt + Pepper

to taste
Instructions
Preheat the oven to 425 degrees.

Begin by covering the chicken in olive oil, then drizzle with lemon juice. Season liberally with salt, pepper and a bit of smoked paprika on both sides. Place on the sheet pan skin side up and tuck a sprig of fresh rosemary and thyme under the natural dome of the breast bone.

Take one of the sprigs of rosemary and chop the leaves.

Then wash and cut the cauliflower into florets and then in half or fourths depending on size. Add these to a medium bowl with the baby potatoes.

Cut the shallots into quarters and add to the bowl with the cauliflower and potatoes. Add 1 1/2 tablespoons olive oil, the diced rosemary leaves, a bit of fresh lemon juice, a bit of smoked paprika and salt and pepper to taste. Mix well and scatter around chicken on sheet pan, leaving room for the artichokes.

Now, remove the beginning leaves from the artichoke and trim the thorns. Next, cut the artichoke in half and cut out the fuzzy interior choke. Cover the cut edges of the artichoke with lemon to help prevent browning and stuff a rosemary and thyme sprig in each cavity where the choke was. Place them on the sheet pan and drizzle with the remaining olive oil and more lemon juice. Add any remaining sprigs of rosemary and thyme around the pan.

Place in the oven and roast for 45-55 min, until the chicken skin is golden and the vegetables are softened and browned. Chicken should be cooked to 165 degrees internally for safety.

Remove from oven and allow to rest for a few minutes. Serve with aioli or gravy and Enjoy!
Nutrition
Calories:
878
kcal
|
Carbohydrates:
72
g
|
Protein:
52
g
|
Fat:
46
g
|
Saturated Fat:
9
g
|
Polyunsaturated Fat:
7
g
|
Monounsaturated Fat:
28
g
|
Trans Fat:
0.2
g
|
Cholesterol:
116
mg
|
Sodium:
280
mg
|
Potassium:
2668
mg
|
Fiber:
18
g
|
Sugar:
11
g
|
Vitamin A:
1145
IU
|
Vitamin C:
226
mg
|
Calcium:
187
mg
|
Iron:
7
mg